*This post contains affiliate links that help support this blog.  That being said I only share links on products I own, or would personally purchase.*
Craftsy is currently having a big sale now through Monday!  I will often post about craftsy classes because, honestly, they rock!  I own over a dozen myself and these are some of the ones I recommend the most, but they are ALL on sale right now. You get permanent access to them so there is no time limit and you can watch the videos over and over again as well as ask the instructors questions.  With all classes being $19.99 or less this makes most of them 60% or more off!  This is by far one of the best sales I have ever seen from them.
If you have a larger, smaller or simply harder to fit bust then the average women, this class, "Adjust the Bust" with Kathleen Cheetham, is extremely helpful!  It covers both FBA (Full Bust Adjustment) and SBA (Small Bust Adjustment).  She explains it well, explains the math and why and how it needs adjusted where.  This is one of my favorite sewing classes I have purchased. This is normally $49.99 but is on sale for $19.99 right now.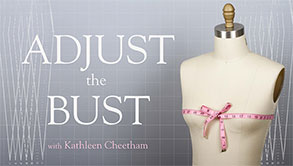 Is your chest not your hard to fit part?  There is also a "Back, Neck & Shoulders" and "Waist & Hips" class too.  All 3 fitting classes are on sale for $19.99 each which is a steal of a deal for what you get. (Normally $49.99 each)
One other class I have started recently is the "Sewing Designer Jeans".  I am excited to try this out and love that I can watch the classes just a little at a time, at my own pace.  It makes the idea of making my own jeans a LOT less intimidating.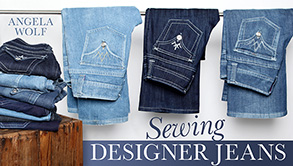 Another class that some of my amazing fans have recommended is the "Beginner Serging" class.  If you haven't used one before, and don't have friends or family with one they can be very intimidating.  The feed back I got about this class is it is a great way to but the fear a side and pull that serger out of the closet (seems pretty common, lol) and start falling in love with it!  Since different sergers/overlockers work differently you will want to make sure you have your manual.  At $19.99 it is cheaper then most in shop classes and you can watch it as many times as you want forever!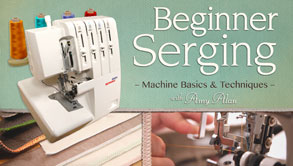 I also have, love and recommend some of their photography classes as well!
I actually have both the written book and the Craftsy class of the Portraits with On-Camera Flash.  Yes it's a portrait class BUT it has a ton of great lighting & camera setting information. If there is one online class you could take for this, this is the one I recommend.  I also highly recommend Neil van Neikirk's other classes as well, especially the off camera flash one.