Well today was the twins birthday party so I finished up the last part of their party outfits this morning & they wore them to the parade!  They wore the tops yesterday with just the white petti's but the colored tutu gives it a little extra something.
Anyways to start the top is totally self drafted after looking at past issues of Ottobre (issue 2/2005 #7)  & loving the petal like ruffle.  I thought about ordering the issue but I didn't have time, plus it was far to wide & was a crop top which isn't what I was looking for.  I am far more pleased with what I came up with :).  I lucked out because I didn't test fit it until halfway through assembling the main part… it BARELY fit's over their hips, put is perfect on.  In the future I would make it bigger & ad a little elastic in the back.  I would have taken a pic on my half plastic toddler model, but my girls are slim & it just won't fit!  Best part is it is fully reversible though I did the same color on both sides.  I think it took me abour 1.5 hrs to make them both total which isn't too bad with out a pattern.
Carlie Paige…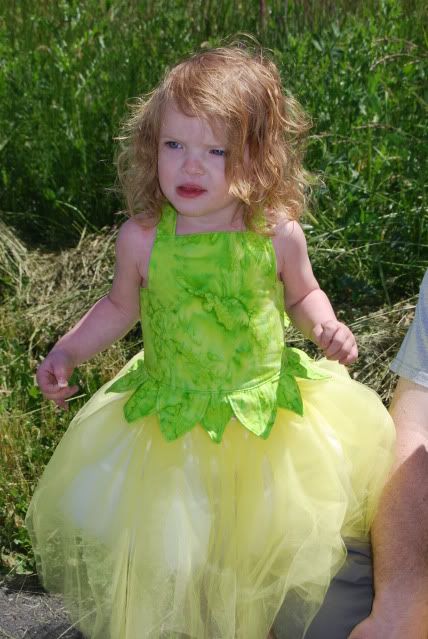 Baylie Ann…

Anyways for the tutu this is what I did… I took 3 yds of 54″ tulle & folded it in half so I had 27″ X 3yds of tulle and sewed the ends together… then I folded in half inside of itself so the seam was between the top & bottom layers… I then had a tube just shy of 1.5yds when flat by 13.5″ On the fold I then sewed a casing all the way around for the elastic leaving a hole to put the elastic in. Then I trimmed it all the same length (12.5″ for the twins) and put the elastic in!
I actually prefer the general look better then the tied ones… but next time I will use 2X the tulle because these weren't full enough to be worn without their petti's underneath.  Not only that but these are much faster to make with less cutting!  I HATE cutting tulle.  I promise to make more tutu's soon & if it works well with the increased amount of tulle I will post a tutorial!
Anyways back to our day :).  Yesterday when they wore the tops with the white pettis out we got a lot of cut comments, but today with yellow tutu over it we got lots more!
The parade we went to is in a small town near by & was huge last year, well this year they moved it off main street & the turn out was much less PLUS since no one is seeking votes apparently no one wanted to take the time to make cool floats!  SO the twins ended up as one of the main attractions, lol.  We actually had 2 different photographers from 2 different papers taking their pictures.  Even though it's small it's the first parade the girls were big enough to get candy at (we are normally walking with the twins club at other larger parades) & they were in a state of amazement (I can't wait until the large 4th of July parade!).  So a few more pics in their cute flower fairy b-day outfits!
Sitting with Buddy as the loud fire truck drives by…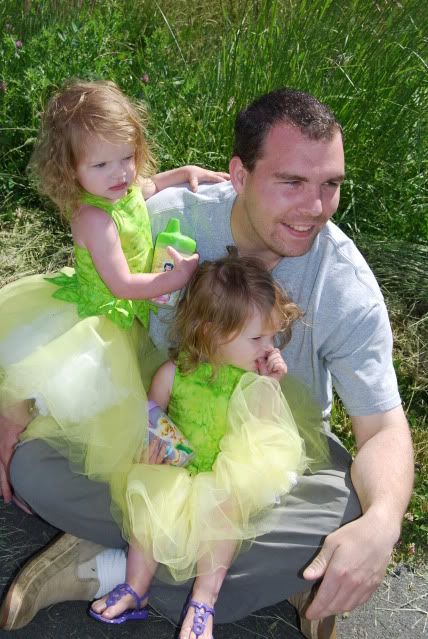 Gotta try some of the candy they are handing out, it would be silly to wait until we got home…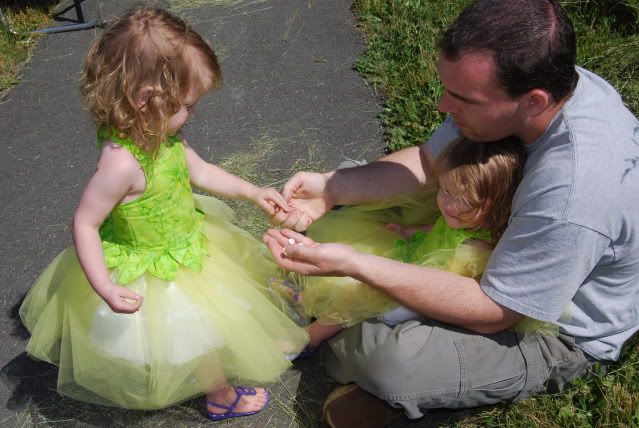 Of course I had to fight to get any pictures of them, but the lady from the newspaper asks & they suddenly are all ready to pose… of course she got the good shots & not me!

Then Carlie walking marching the 10 minute walk back to the car that should only take 4 🙂

After a nap playing in their room for a few hours the twins had there party which was nice & they all had a ton of fun.  I promise some better pictures when they are in a better mood.  Baylie has started yelling at me with nasty looks when I take her picture more then a few times… she is going to be a total diva!