Not on my sewing pile :(, but on the addition B is having built & my soon to be new sewing room :).
They have been working on it for a few months now but with the roof & sheeting on the sides up it really is starting to kick in, it's huge!  Yesterday B realized that I hadn't been up into the addition yet, just in the garage, so for the first time he helped me climb up into it (no stair cases yet) and it's neat to have all the walls framed.  We talked about where we were going to put everything and all the good stuff and I got to check out all the extra storage our contractor managed to build in… it's in lots of neat places that would have otherwise been big empty useless space.   Well enough talk, time for pictures!
From the driveway/street… the windows are too my sewing room & B's office.
From the front yard… (small window is B's office, big ones is in the family room.)
The over sized 2 car garage (I have never been able to PARK in a garage or carport before, I'm excited!)
One side of the family room… (one wall, not sure which yet, will have wall to wall shelving for all the DVD's & video games)
The other side of the family room… (this will be a toy free zone except we will have a crafting area set up for the kids to use for art & stuff though the supplies will most likely go in my sewing room)
B's office (he is most excited about having a door!)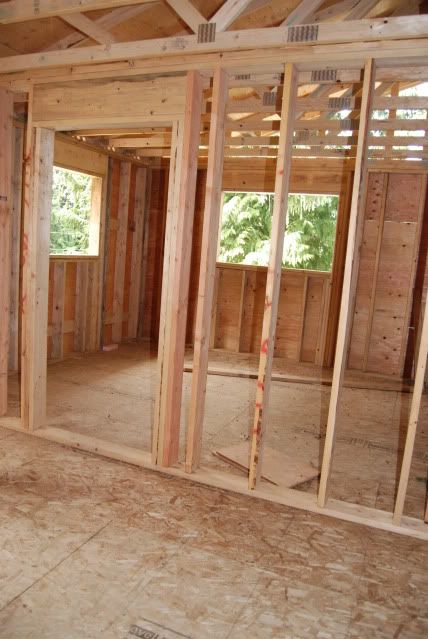 I saved the best for last, my future sewing room!!!!   Now I just need to find out what type of can lights use the cheapest bulbs because I want a lot in there, but bulbs are pricey, so time to research!