One of my new guilty little pleasures is Jamberry nail wraps. This is my newest set I am IN LOVE!!!! I love the look of them on even more then when I original ordered them and they don't chip like polish when I am sewing.
With 5 kids, the never ending cleaning of my house and my sewing business most polish doesn't last more then a few days.  While I love going in and getting a gel manicure I don't have the time or the money to do it often, and acrylics are pricey and also tear up your nails.  A set of wraps runs $15 and you can get about 2 mani's & 2 pedi's out of it which is the cost of a polish mani in the salon. Plus they even have kids ones including mommy & me sets for those of you it girls ;).
Jamberry nail wraps are the perfect solution!  I know many of my nurse friends have similar issues with polish. They are easy to remove (quick soak and pull off) with out damaging your nails.
They have everything from the wildest new trendy prints…  (yes florals, chevrons & more!)
To classic solids and French tips. The French tips look perfect but are easy to do at home and not harmful to your nails like acrylics AND don't chip right away like polish.  They are a great professional option.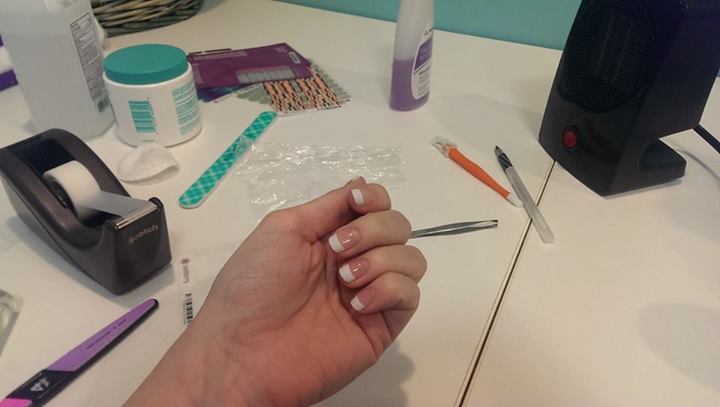 My party is going to be open until June 25th, order 3 sheets of wraps and get the 4th free! You can get 2 full mani's and 2 full pedi's out of 1 sheet for the price of 1 regular polish French mani.  I'm not going to lie, they probably won't go on great the first time but don't get disappointed!  I have super curved nails which are some of the hardest to do and I just watched a few videos on YouTube that made a HUGE difference.  This is only my 3rd set but they look better/ go on easier every time, I get tons of compliments on them and even on my super curved nails they last at least a week. They currently only ship to the US & Canada.
Select Kymy's Party at checkout and help me earn a discounted sheet 😉. I already bought a bunch and hubby says no more full price right now, lol. They have juniors that are great for little girls too!
http://kymy.jamberrynails.net/