Description
This pattern is includes an ebook .pdf file with 13 pages of directions and 57 professional digitized pages that you assemble to make the full sizes pieces. (25-33 pages per view and includes a print chart so you only print what you need).
SIZES: XS, S, M, L, XL, 1X, 2X, 3X, 4X, 5X
SKILL LEVEL: Confident Beginner
OPTIONAL PRINT SHOP COPY: Includes a 3 A0 page (36″x48″) print shop copy .  The 3 pages can be assembled easily to make all the complete pattern pieces.
Make sure to read the directions BEFORE printing off all the pages.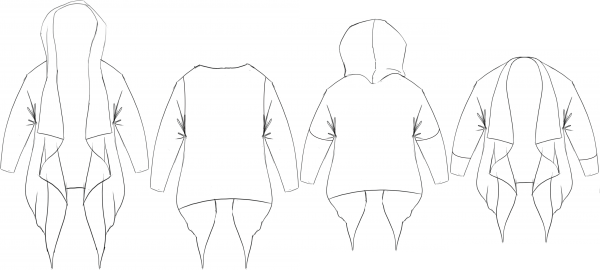 SUPPLIES
~60″+ wide PREWASHED Knit fabric with good drape.
~ 1/2 yard of clear elastic or narrow twill tape or ribbon to reinforce shoulder seams.
~Washable Marker (or other tracing tool)
~Scissors, Thread (regular for the top & Maxi Lock Stretch in the bottom), Pins
~Sewing machine, Ball point machine needle OPTIONAL: Twin Needle for hem
~Iron , Hem Gauge or ruler to measure hems
~Printer, Paper & Tape (for pattern pieces)
~Roll of tracing paper, freezer paper, parchment paper or cheap interfacing & pen