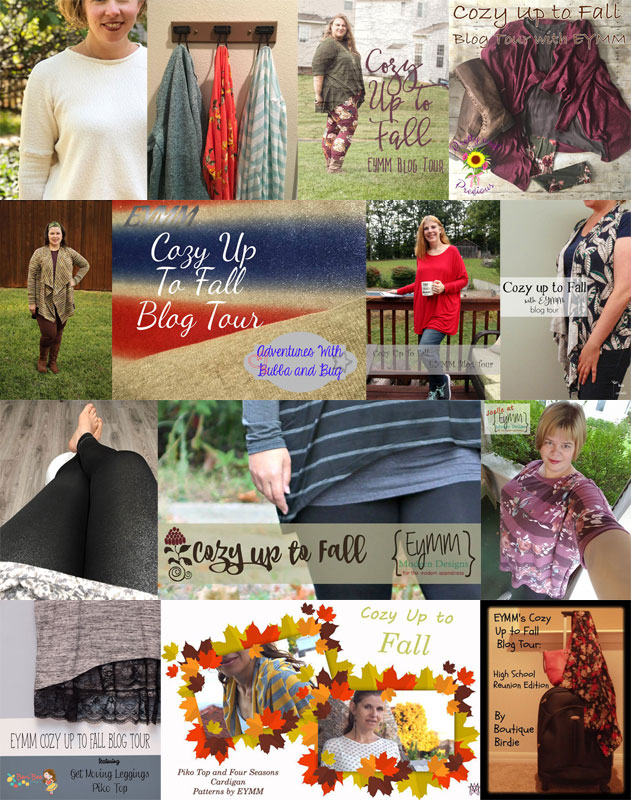 I have been blown away once again by the outfits put together for our Cozy Up to Fall Blog Tour. The talent that all these ladies possess just amazes me! Have you enjoyed all the inspiration offered during the Cozy Up to Fall Tour this past week? Did you make sure to visit them all?
In case you missed it, most of our bloggers hosted giveaways for EYMM gift cards. I hope all our readers entered to win! If you missed any, you can go check them out by clicking the pictures below! Don't forget that the 30% off coupon code is valid through tomorrow night (Oct. 11 at 11:59pm PST).
Through tomorrow, all featured patterns are on sale (save even more by buying the youth/adult bundles!) … the Four Seasons Cardigan (both women's and girl's), the Piko Top (both women's and girl's), and the Leggings Bundle ('Get Moving' Leggings for women and Jocelyn's Leggings for girls). Use coupon code FALL17 to save 30% off these 6 patterns and/or 3 bundles in the EYMM shop, but only until 11:59pm PST on October 11, 2017.
Happy Sewing!!  ~  Joelle